Survey
What is your official possition in your company?
Worker in purchasing department.

42%
Worker in maintenance department.

19%
Worker in design department.

20%
Owner or director of company.

19%
[votes in total: 8095]
Stainless steel tanks - custom manufacturing
For chemical industry, food-processing industry, etc.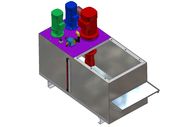 We can also manufacture the entire BROXFIL filtration units from stainless steel; we can also make the individual stainless steel tanks. Please, send us your requirements and measurements. We will discuss everything thoroughly with you and prepare a price quote.
Please, send us your demand
Send us your demand, requirements, questions, and drawings via e-mail, or contact us. You will receive our offer as soon as possible or, eventually, we will contact you with additional questions.