Survey
What is your official possition in your company?
Worker in purchasing department.

43%
Worker in maintenance department.

19%
Worker in design department.

19%
Owner or director of company.

19%
[votes in total: 8581]
CAD mechanical engineering drawings, design and services
Mechanical engineering drawings services including electrical and software solutions
We are offering engineering design, drawings and design devolopment of your new products according to your requirements. We are able to offer you either only design work which means engineering drawings, 3D models and so on or complete manufacturing of such products according to those drawings including painting, mechanical assembly, electrical and software assembly as well.
2D technical drawings and 3D mechanical design

The design, technical documentation itself has its roots back in the ancient era. The ancient architects, especially, introduced their designs to investors and, provided they succeeded, they created more detailed drawings – technical drawings – directly for the builders who realized their designs. As time went by, technical drawings became the foundation for the majority of products around us. Technical documentation is more and more precise, and the means for its creation more and more sophisticated. However, the principle of the ancient architects survives – to design, introduce and realize the pertinent product.
3D CAD mechanical engineering drawings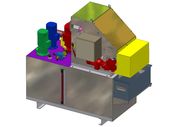 What is a 3D CAD mechanical engineering drawing or a model? Simply said, it is a three dimensional / volume display of any object on a computer monitor or printed out on paper. The advantage of a 3D model displayed on a PC is the option to rotate it in all dimensions and, thus, control its dimensions, evaluate the potential collisions, positions and details, which is not possible with 2D drawings. In addition, it is possible to perform movement animations. We create our technical documentation, mechanical engineering drawings, assembly drawings and manufacturing drawings in Autodesk INVENTOR version 11, 08 or 2009.

The 3D technical documentation and mechanical engineering drawings can be provided mainly for special projects when our products must be incorporated into a certain superior system. For example, chip conveyors with a tank and filtration device for a machining device, or system of rollers and belt conveyors, manipulators and single-purpose machines for areas in manufacturing or storing halls.
We provide 3D technical documentation in the following formats:
IAM
IPT
IGS
SAT
STEP
TIFF
DWF (serves for viewing 3D models by free browser, which can be downloaded from the AutoDesk website)
2D mechanical engineering drawings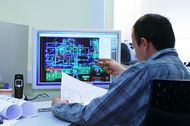 The term 2D mechanical engineering drawing means, nowadays, instead of the former drawing board, a screen of a computer and a keyboard instead of a pencil, drawing-compass and an eraser. 2D mechanical engineering drawings are still used for the common engineering production. 2D drawings are created from the 3D technical documentation in the IDW format. These can be then stored in the DWG format to be used in AutoCad, or it is eventually possible to draw the 2D mechanical engineering drawings directly in AutoCad. We design some of our systems of conveyors, where it is not necessary to compare in the environment of a superior system, in 2D.
Samples of 3D models of technical documentation
We offer both the mechanical engineering drawings iself and manufacturing if you need