Survey
What is your official possition in your company?
Worker in purchasing department.

43%
Worker in maintenance department.

19%
Worker in design department.

19%
Owner or director of company.

19%
[votes in total: 8581]
Tipping self dumping waste and chips skips
You can make your place tidy quickly and safely with our self dumping waste skips
YES – this is the correct solution
For example, tipping waste skips with double bottom for waste and chips removal are mobile and allow you to separate solid particles from liquids and ensure their safe transportation to a designated place. Cleaning chips from machining on CNC machining devices is simple and productive with our conveyors.
NO – this is not the correct solution
Storing chips and waste in vessels or bins which are not designed for such purposes is dangerous regarding personnel safety as well as regarding ecology. In addition, manipulation with these vessels takes up much more time.
Do not hesitate to choose from our containers for waste and chips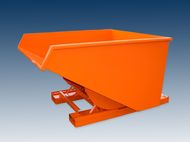 Tipping waste skips are made of high quality materials with robust tipping mechanisms. Thanks to these features, along with high quality coatings, their life is very long. We offer a few sizes and designs with double or single bottom, with or without wheels.

Surface paint
Polyester powder paint (200°C). The skips are, as a default, supplied in the following colors: as standard we use RAL 5010 blue.
Please add 5% more to our prices if you need colors like: RAL 7035 gray; RAL 9005 black; RAL 2009 orange; RAL 6029 green; RAL 3000 red; RAL 1033 yellow. On request, the containers can be supplied in different colors.
Using the forktruck tipping skips
Collection and disposal of waste and chips created during machining or pressing.
Collection and disposal of waste created during engineering production (for example, slag in steel works, construction production, glass production, wood production, etc.
Collecting and removal of products not sensitive to contusion.
Operating forklift tipping skips
Due to the specifically located center of gravity, the operator only needs to lift the locking hook using a wire and shaft from the driver cabin of the forklift. The skip empties itself. After emptying the content, the skip will automatically return in its original position.
The waste and chip skips are offered in 4 different types