Survey
What is your official possition in your company?
Worker in purchasing department.

43%
Worker in maintenance department.

19%
Worker in design department.

19%
Owner or director of company.

19%
[votes in total: 8581]
FAQ
What is the price of chip conveyors (metal waste - moulding - forging conveyors)?
The price of the conveyor is largely influenced by you, our customers.

We prepared for you a unique recommendation with selection of conveyors pursuant to the type of transferred materials (for example, chips from machining, piece products and metal waste). Once you choose a conveyor according to our recommendation or your experience, you must simply go to the demand section, where you can choose the conveyor's design and fill in the dimensions and specify your needs.
You know best what requirements and demands the conveyor must meet.
For example, machining and heavy duty workshops will require certain conveyors with rollers and bottoms enforced with wear-resistant material, heat-treated belt axles, welded hinge loops, etc.
On the other side, they can contain machines and operations, machining only soft materials and not producing many chips and, therefore, no extreme requirements for the conveyors are necessary.

A thorough completion of the demand form might cost you a few minutes of your time, but you will get an optimum solution for your conveyor in the relation price – utility characteristics.
Why do our chip conveyors show excessive wear on their tracks?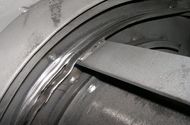 According to our experience, the important factor is the selection of the material of the tracks and the bottom of the conveyor in relation to the machined material, type of created chips and conveyor maintenance.
The attached photograph shows, for example, what wear can occur during a few months in conveyors with incorrectly chosen material for the tracks. The machined material was, in this case, steel cast in sand moulds, machined dry, creating small to dust chips. Unfortunately, another factor was bad maintenance, or (if you like) late emptying of the chip containers. This caused pulling the chips back in the conveyor and continuous grinding-off of the bottom and rollers. The entire problem occurred due to receiving bad information about the machined material and conditions during machining.

Definite recommendations for the same or similar applications are: Use only conveyors with tracks and bottom from highly wear-resistant material (we are using HARDOX materials) and chip skips which will be emptied on time to keep from pulling the chips back into the conveyor.

Again, a thorough completion of the demand form might cost you a few minutes of your time, but you will get an optimum solution for your conveyor in the relation price – utility characteristics.
Does BROXTEC keep a stock of spare parts for my chip conveyors?
YES, we keep and add spare (replacement) parts continuously in stock. Please, send us the serial number from the manufacturing plate (nameplate) of a BROXTEC or JORGENSEN conveyor and we will send you spare (replacement) parts. We are able to ship the majority of the spare parts within 24 hours.
Can you please paint our conveyor pursuant to our requirements?
As a standard , small conveyors up to length approx. 5.2 m, width 1.4 m and height approx. 2 m are mostly treated with a top powder coating (KOMAXIT). On request, this coat can also have a foundation.
Larger conveyors are treated with a sprayed coat – anticorrosive foundation + top coat. The most often used color for the conveyors and filtration units is RAL 7035. However, if you send us a requirement for another RAL color, we will fully accommodate you without any price increase.
What are the lead times for delivering a chip conveyor?
In case of repeated manufacturing of the same conveyor, we are able to offer delivery within approx. 2—4 weeks. In case of the production of special conveyors and the necessity to prepare design documentation, the lead times are between 4—9 weeks, depending on the project complexity. We always strive to meet your needs and requirements.