Survey
What is your official possition in your company?
Worker in purchasing department.

42%
Worker in maintenance department.

19%
Worker in design department.

20%
Owner or director of company.

19%
[votes in total: 8095]
BROXFIL CPBF - coolant emulsions and oils compact paper belt filters
You get clean liquid back economically and simply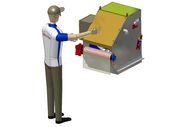 Filtration systems – the BROXFIL drum compact paper belt filters are highly efficient, universal gravitation filters. Our belt filters can be used everywhere you need to filter, for example, coolants and cutting emulsions, cutting oils, water and other liquids and get clean liquid for further use. Non-woven textiles (filter fabrics) are the filtration medium. Drum belt filters are supplied either separately for use with your current tanks or in a set, with a tank and set of pumps. This forms a complete filtration system which can be completed pursuant to your requirements.
The filtration efficiency is 60 – 10 microns, pursuant to the type of the filter fabric used (average size of impurities in the liquid after filtering).
Our BROXFIL drum compact paper belt filters are universal filtration systems for cleaning liquids especially when treating and machining metals.
Compared to complicated filtration systems, they require only low purchase and operation costs.
They will significantly improve the life of your coolants, cutting or other liquids, machines and tools.
They are much smaller compared to straight belt filters – great space savings in your facilities.
Thanks to their special design, they provide a larger volume of filtered liquid.
A roll of filter fabric is hidden inside the unit, which means that it does not get spoiled from the environment.
With each belt filter, we supply, as a standard, 2 free rolls of the filter fabric (1xBXP 45 and 1xBXP 60).
They provide high efficiency filtration.
You can choose a design with an inlet on the right or left side.
The electric control can be adjusted according to your requirements, or the delivery can be without any controls.
They have very low maintenance demands.
We offer many options of application.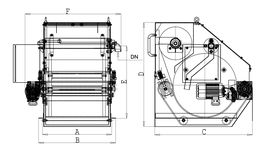 We offer 3 basic dimension types of belt filters. Each individual type can be adjusted pursuant to your requirements, or we can prepare an individual solution for you. Click on the drawing to zoom in.
 BROXFIL
* Flow rate L / min.


Dimensions (mm)
Type
Emulsion
** Oil
Width of filter fabric
*** Inlet
A
B
C
D
*** E
F
CPBF 130
max. 130
max. 65
500
DN 32
550
610
770
820
570
760
CPBF 230
max. 230
max. 115
700
DN 32
750
810
770
820
570
960
CPBF 400
max. 400
max. 165
700
DN 50
750
810
1070
1150
1020
960
* These are only orientation values of flow rate. The flow rate depends, besides others, on grammage of the used filter fabric and amount of impurities in the liquid.
** Oil viscosity 20 mm² / s
*** Size and type of inlet. A standard is a mouthpiece with internal threading G 1 1/4" (DN 32); G 2" (DN 50). Upon an agreement with the customer, we can prepare a different type of connection, e.g. via flange, and place the inlet to suit, for example, the gravity flow of oil.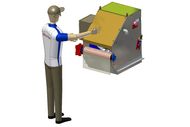 Connect the source of spoiled liquid to our belt filter. In the basic design, the liquid inlet is via threaded fitting DN 32 (1 1/4"); DN 50 (2") – can be adjusted as you need. The spoiled liquid supply can be provided by a pump, or, where the height allows, solely using gravity. That means that the spoiled liquid can freely drain, for example, from a grinding machine, directly into our belt filter. Please, always consider the maximum flow rate through the filter fabric – see the table. If you supply more liquid or liquid containing large chips from machining, the unit will not work.
The spoiled liquid is brought between two sealing wheels which, along with a wire belt on which the filter fabric is moved, contain a certain depression. The impurities from the filtered liquid will get caught on the filter fabric and the clean liquid drains either in your tank or in a tank we would supply as a part of a complete filtration system. The process repeats until the time when the filter fabric is clogged by the impurities. The liquid level in the system starts rising until it achieves the switching level of the level gauge. The level gauge turns on the engine and it moves the wire belt to bring clean filter fabric in the work area.
It generally applies that the higher grammage of the filter fabric, the fewer the residual impurities in the liquid and the smaller the flow rate of the filtered liquid (e.g. coolant, cutting oil, etc.) through the filter fabric.
If you need more information, please do not hesitate to contact us using the demand form – above, or via telephone or e-mail.