Survey
What is your official possition in your company?
Worker in purchasing department.

42%
Worker in maintenance department.

19%
Worker in design department.

20%
Owner or director of company.

19%
[votes in total: 8095]
Tanks for coolant emulsions and cutting oils
For your CNC milling machines, lathes, machining centers and grinders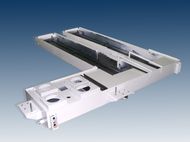 Are you manufacturers of machine tools, grinders, honing machines, industrial saws, and other machines using some kind of liquid or oil for cooling? Or, do you have a machine which needs a new tank? We will prepare a construction design pursuant to your information and, upon approval, manufacture and supply the tank.
Design in 3D, details according to your requirements
Tanks for CNC lathe. Samples of 3D model of technical documentation. The finished tank for coolant emulsion for a CNC lathe, manufactured pursuant to the above mentioned documentation. The front of the tank serves, at the same time, as a part of the machine front.
From a drawing to realization
Please, send us your demand
Send us your demand, requirements, questions, and drawings via e-mail, or contact us. You will receive our offer as soon as possible or, eventually, we will contact you with additional questions.