Survey
What is your official possition in your company?
Worker in purchasing department.

42%
Worker in maintenance department.

19%
Worker in design department.

20%
Owner or director of company.

19%
[votes in total: 8095]
Magnetic conveyors MC
For transportation of very small magnetic materials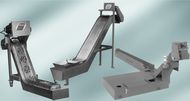 Magnetic conveyors are equipped with permanent magnets, which are fixed on special chains inside the conveyor. The surface of the load and unload sections are made from stainless steel. The magnetic materials of very small dimensions fall on this stainless steel surface and the strong magnets carry them to the place where they fall into the prepared collecting bin (tipping waste skips).
Application and advantages of our magnetic conveyors:
Magnetic conveyors are used mainly for:
Saws for cutting metal (magnetic) materials.
Toothed machines.
For transportation of very small metal stampings and metal parts.
They are an effective solution when machining cast iron or steel creates large amount of fine chips, which are difficult to remove using standard scraper or hinged steel belt conveyors.
Advantages of using magnetic conveyors:
Effective for broken and fine magnetic chips, very small metal parts and sheet stampings. Applicable for transport of both wet and dry materials.
Watertight – closed design with low maintenance requirements.
The mobile parts are not visible – safety guarantee.
Strong magnets for effective work.
Strong stainless steel plates for long life.
How do I simply choose a correct conveyor type?